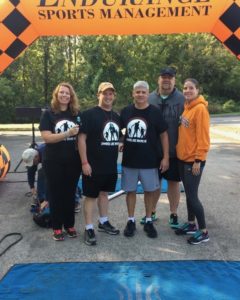 From Left to Right: Elizabeth Psar, J. Christian Stadler, III, Michael Inman, Tony Hill, and Lauren Phillips-Stadler.
Julia Barbara's Zombie Run, September 2017
I used to tell people, "The only time you see me running, is when the jerk driving the ice cream truck is refusing to hit the brake…" In reality, I have had an on again, off again relationship with running since college. Thanks to encouragement from my wife, I participated in five half marathons in 2017 – which is up from the zero I had participated in prior to 2017. Now, I have some additional encouragement to get out on the greenway.
On September 9, 2017, the Julia Barbara Foundation held its first 8k Zombie Race. The Julia Barbara Foundation is a charitable organization devoted to fighting DIPG (brain stem tumors): http://www.juliabarbaradipg.org/. Julia Barbara was the daughter of our friends, Elizabeth and Rado Psar. Julia passed away in the spring of 2016 from DIPG. Since then, her parents and brother have sought to increase awareness of DIPG so that one day children may have a chance to fight back. Those children diagnosed with DIPG have a zero percent chance of survival. The zombie theme was chosen because "zombies like brains," and the Julia Barbara Foundation seeks to fight brain stem tumors. Those who complete the run received a zombie medal, and our zombies now greet those who come in to our office. I look forward to collecting more.
Inman, Stadler & Hill was proud to come out and run the race, and provide drinks and food to those who participated in the run. Michael, having not donned running shoes in a number of years, turned in an impressive 2nd place in his age group on this 8k run, and I was pleased to have finished on the 9th. The Julia Barbara Foundation will hold more zombie runs in the future, and Inman, Stadler & Hill will be right there with every step. Please keep any eye out for the next run, and do come join us in memory of Julia Barbara.
Written by: J. Christian Stadler, III